Lakeland Home Inspection Companies and Inspectors
Are you buying a home in Lakeland, FL?  If so, one of the most important steps in the process is your home inspection.  But who do you call?  Most of us only purchase a few homes in our lifetime, and you don't really need to know inspection companies at any other time.  We have put together a comprehensive list of the Lakeland home inspection companies and inspectors.
Most of the home inspection companies also provide wind mitigation inspections.  Depending on the wind features of your home (age of the roof, shape of the roof, etc.), this type of inspection can save a lot of money on your homeowner's insurance.  Make sure to ask your inspector if your house has features that could benefit from a wind mitigation inspection.
This page also lists Pest control companies.  Many of the pest control companies can provide a termite inspection for you.
We hope that you find this source useful.  Leave a comment if you know other companies that should be listed here or have a review for any of the companies listed!
Lakeland Home Inspection Companies & Inspectors
FYI Risk Inspection ServiceLakeland, FL / Winter Haven, FL / Plant City, FL863-513-0349

Beryl Engineering and InspectionGreater Tampa Bay area813-616-3301
HouseMasterPolk County + surrounding areas813-495-7549
Amerispec Inspection ServicesCentral Florida863-401-3692
Residential Inspection ConsultantsLakeland, FL / Polk county + surrounding areas863-859-3664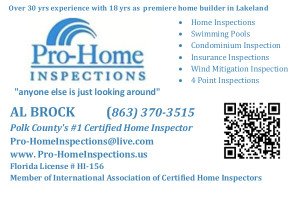 Pro-Home Inspections by Al Brock, Inc.863-370-351530+ years of experience"Anyone else is just looking around"Serving Lakeland, FL / Winter Haven, FL / Lake Wales, FL / Bartow, FL / Polk City, FL / Plant City, FL  + surrounding areas
Mikro Home Inspections863-698-2100
Vista Pointe Residential Inspections815-701-6135
All American Inspection Services863-688-6500
MAX Home InspectionsLakeland, Central FL863-529-8604
Smith Inspection ServicesPolk county + Hillsborough County863-670-3624
Chimera HomesWinter Haven, FL863-287-7026
Around the Town Inspections863-255-2780
Best Check Inspections863-802-9196
Space Invaders Residential Home InspectionsLakeland, FL + surrounding area (up to 115 miles from 33801)Office: 863-272-9942  Cell: 863-797-5453
Lakeland Termite Inspection & Pest Control
Town & Country Termite & Pest Control, Inc.Office: 863-665-6417  Cell: 863-899-9161A family owned business in Polk County for over 37 years.  Residential or Commercial,  service for all pest and termite problems.  Free quotes and inspections for owned property, fair prices for pre-purchase inspections.
Gator Pest Solutions863-816-7616
JP Termite & Pest863-581-2104
All-Out Pest Control863-255-0525 or 863-666-6320
Total Pest Solutions Inc863-585-3636