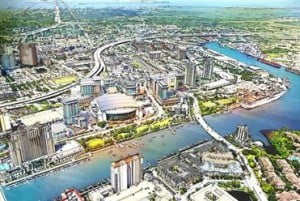 Strategic Property Partners
Jeff Vinik has announced his plans for the area surrounding the Amalie Arena in downtown Tampa.  It is expected to be a 5-7 year project which totals $1.07 billion.  As you can see from the artist rendering, it would totally transform the area southeast of the Lee Roy Selmon Expressway surrounding the arena, which is primarily vacant lots at this time.
The downtown Tampa project will include the following:
575,000 sq ft of hotel space

1.1 million sq ft of office space

660,000 sq ft of residential housing

5,000 parking spaces in parking garages

330,000 sq ft of USF buildings

250,000 sq ft of retail space
One area that did not have a solid plan is Channelside Bay Plaza.  Vinik purchased Channelside from Irish Bank Resolution Corp earlier in 2014.  Plans are still being finalized, but it will see changes ranging from a major renovation to a complete teardown.
Related: Slideshow of artist renderings
Related: Full article about Vinik's vision
A lot of this information was already available, but it is great to hear the comprehensive plan all together.  I am glad to see a plan that makes use of all of the vacant lots.  Bringing in corporate headquarters and medical professionals along with all the retail and service jobs will be a great boost to the downtown economy.  With more downtown Tampa housing developments, Tampa can continue to grow as a place to be after the normal business day.  I, for one, am excited for Tampa's future, and I hope you are, too!  Share your thoughts below.
Greg & Eneida
KRL Group FL, LLC