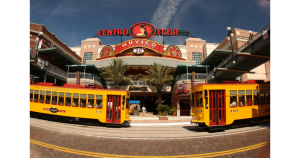 We buy houses in Ybor City, FL.  There are many reasons why we like Ybor City.  Read on to find out more about this great area, and how we can help you if you have been thinking, "I need to sell my house in Ybor City, FL!"
Ybor City, FL History
Ybor City
is one of 6 historic districts in Tampa (Hampton Terrace, Hyde Park, Seminole Heights, Tampa Heights, West Tampa, and Ybor City.)  Ybor City is located to the northeast of downtown Tampa.  The greater Ybor City area is bounded by Tampa Bay on the south, Martin Luther King Jr Blvd to the north, Nebraska Ave. on the west, and 40th St on the east.  The historic district is encompassed in the area around I-4.  The boundaries are not exactly rectangular, but they stretch roughly from Nebraska Ave to 22nd St and from 3rd Ave to 21st Ave.  This area has a very interesting history from cigar factories to organized crime (see more history
here
.)
Ybor City, FL Today
Ybor City has changed so much throughout its history, and right now is no different.  Between Adamo Dr. and 7th Ave, many renovations and new construction have added trendy housing to the area.  In addition, new businesses are moving into the Ybor area.  Tech companies like Kitedesk, S3 Media, and Ashcomm (the e-commerce division for Ashley Furniture) are moving to this hot spot.   Traditional businesses are expanding onto 7th Ave, (I was definitely surprised to see a 7-11 on the corner of 7th Ave.) and it shows that this area is in the process of transforming once again.
Ybor City, FL and KRL Group FL
We buy homes that have not been renovated yet-those ugly
houses in need of repairs
, vacant houses, or houses that are just unwanted for some reason.  If you are thinking, "I need to sell my house fast!," then we are here to help!  We buy houses cash or with terms, and we can close on the day of your choice.  If you or someone you know owns a house in Ybor City and needs to sell their house,
contact us
today!